Employer of Youth Award of Distinction
Chateau Lacombe Edmonton Hotel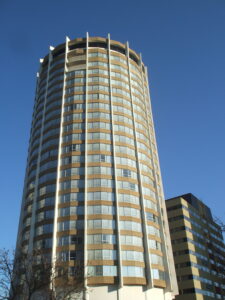 Chateau Lacombe Edmonton Hotel has worked collaboratively with EmployAbilities since 2002 with the very first youth program, the "Hotel Skills Program".    Their dedicated service in supporting and hiring youth with barriers to employment including limited English proficiency and lack of Canadian work experience is commendable.
Chateau Lacombe Edmonton Hotel has created a supportive team environment by providing diversity training for youth who are seeking advantage in workplace, operating with flexibly; and treating workers equitably and fairly.
They have made presentations on employer topics in classrooms, provided on-site tours, and participated in conducting mock interviews to help youth prepare for employment.
Chateau Lacombe Edmonton Hotel, has restructured job specifications including start times for youth in need of accommodations to do their job effectively and successfully.  They have assisted youth with job development by allowing them to build their skills in the workplace at their own pace, in a non-threatening environment, and by explaining the roles and duties of the position in a positive and encouraging manner in a language the youth understand.