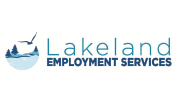 Employment

Communities should have access to comprehensive employment services. That's why we created Lakeland Employment Services to serve the Albertan communities of Bonnyville, Cold Lake, and Lac La Biche.
Job Club Services
If you need help writing your resume or other job-related services right away, Job Club Services are here to help.
Our Job Club Facilitators can help you with:
Resume and cover letter development

Computer skill development

Employment skill development through individual and group workshops

Access to job-related resources
We'd love to help you get set up for successful employment. 
Job Placement Services
We work with Albertans who are having a hard time finding and keeping work to overcome employment barriers and provide the supports they need to get and stay employed.
To get involved in our Job Placement Services, you'll need to get a referral from a Career Employment Consultant at the Alberta Supports Centre. They'll determine which services will best suit your needs.
We can help develop your job-related skills through the following services.
Employment assessment and skill analysis

Job search assistance and placement
If you'd like to get started with our services, you can give us a call.

Have questions? Please contact us at:

Or get the process started by filling out the form below!
Funded by Community and Social Services