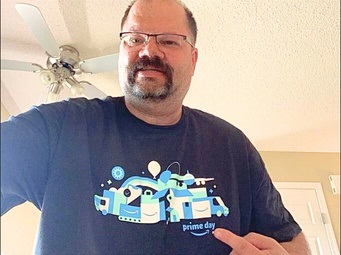 Chad has always had a passion for working in warehouses, with experience spanning from general labour to receiving tasks. He faced unemployment in March 2020 due to the pandemic and was considering selling his home and moving back with family. The challenge was further amplified by warehouses' safety concerns about employing a deaf individual amidst busy and often noisy environments. Chad remained hopeful, however, demonstrating an unwavering spirit and determination to find suitable employment.
This is where our team at Inclusive Career Connections stepped in, providing Chad with a myriad of services, including career planning, assistance with applying to jobs online, interview skills training, and ensuring he had an ASL interpreter for all job-related activities.
A pivotal moment in Chad's employment journey was our collaborative effort at a spring job fair, where we successfully introduced Chad to the hiring team at Amazon. Chad secured a full-time position as a Warehouse Associate at the Amazon Warehouse in June 2023. This not only marked the end of his job search but also brought numerous positive changes to Chad's life. With an on-site sign language interpreter and a team of other deaf individuals, Chad's work environment transformed into a place of inclusivity and belonging. His new employment meant he could maintain his independence and continue living in his own home. He made new friends at work and contributed to the team.