EmployAbilities offers FREE Job Skills Training Workshops!  Check out the schedule and workshop descriptions below.  From drop-in Internet Job Search, to building your resume, and learning new computer and technical skills these training workshops will assist you in the next steps as you prepare to enter the work force!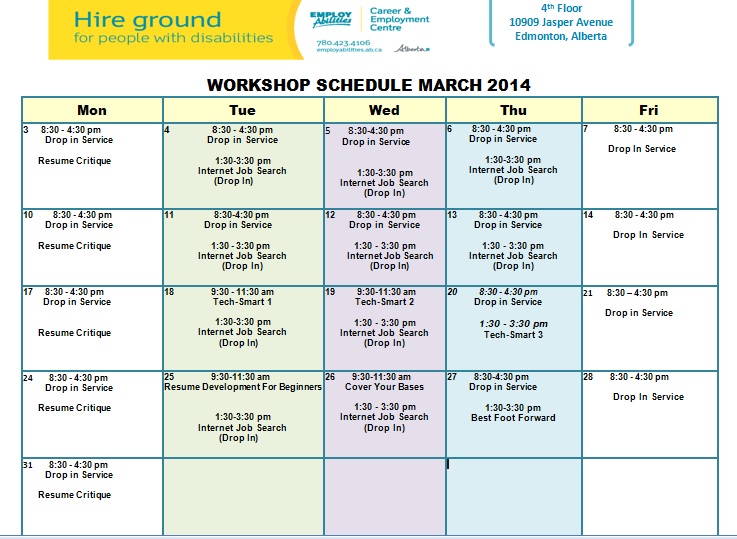 Workshop Descriptions
Resume Critique
Meet with an Employment Coach 1 on 1 to review your resume.
Tech-Smart Module 1
Uncover basic computer skills, including powering Up, logging on & navigating through your computer. Learn to Navigate your desktop.
Tech-Smart  Module 2
Learn to set up an e-mail account & attaching files to your e-mail.
Tech-Smart Module 3
Learn basics job searching techniques using the Internet and work search engine websites.  Explore work search websites including the job bank. Learn appropriate computer usage and professionalism.
Cover Your Bases.
Understand the purpose of a resume and the best type for you! Develop a cover letter and a reference sheet to complete your job application package.
Best Foot Forward.
Learn to answer those tough interview questions and perform your best in order to land that perfect job!
Internet Job Search (Drop In)
Learn traditional job search strategies. Learn the different types of online job sites. Learn how to choose an online job site.
Resume Development for Beginners:
Learn how to develop basic resume writing skills.