Customized Employment – North of 55 Lawncare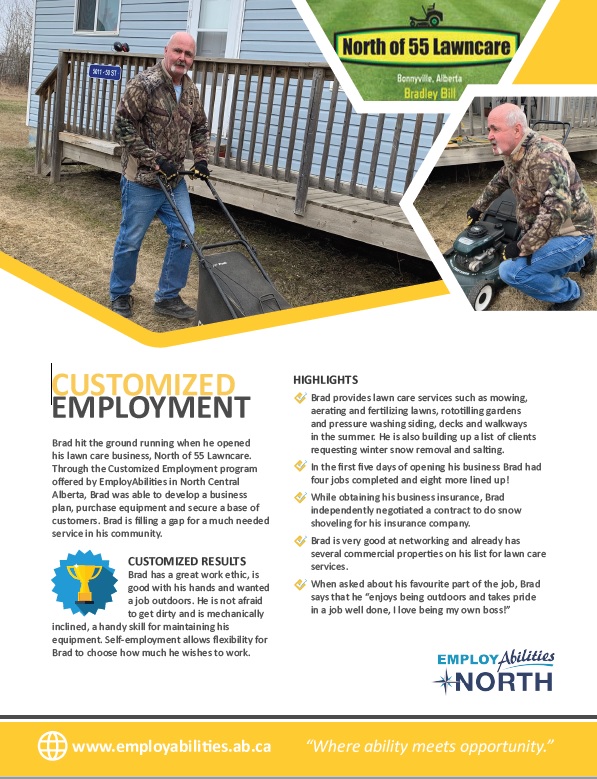 Brad hit the ground running when he opened his lawn care business, North of 55 Lawncare. Through the Customized Employment program offered by EmployAbilities in North Central Alberta, Brad was able to develop a business plan, purchase equipment and secure a base of customers. Brad is filling a gap for a much-needed service in his community.
CUSTOMIZED RESULTS
Brad has a great work ethic, is good with his hands and wanted a job outdoors. He is not afraid to get dirty and is mechanically inclined, a handy skill for maintaining his equipment. Self-employment allows flexibility for Brad to choose how much he wishes to work.
HIGHLIGHTS
Brad provides lawn care services such as mowing, aerating and fertilizing lawns, rototilling gardens and pressure washing siding, decks and walkways in the summer. He is also building up a list of clients requesting winter snow removal and salting.
In the first five days of opening his business Brad had four jobs completed and eight more lined up!
While obtaining his business insurance, Brad independently negotiated a contract to do snow shoveling for his insurance company.
Brad is very good at networking and already has several commercial properties on his list for lawn care services.
When asked about his favourite part of the job, Brad says that he "enjoys being outdoors and takes pride in a job well done, I love being my own boss!"