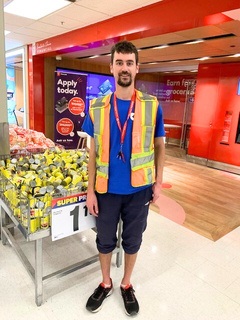 Brendon is a very social, polite, and punctual client who first joined the EmployAbilities Grande Prairie program through a PDD referral in August 2022. Brendon lives with several barriers in his search for employment:  he has OCD, ADHD, and a mild developmental disability. Another barrier for Brendon is his struggle with reading and writing, which impacts his ability to find job postings, apply for, and complete employment training.
EmployAbilities Grande Prairie staff broke down all the training workshops and built them to suit Brendon's learning style to ensure everything being taught was easy to understand and put into practice. He did very well in workshops and skills training. Staff supported Brendon in building his first-ever resume, practicing interview skills, learning how to communicate effectively with co-workers and employers and many other work-related skills.
Due to Brendon's hard work and determination, he secured an interview and then a part-time position with Superstore as a courtesy clerk. Brendon was very excited to join the Superstore workforce and put in great effort to complete his training and work duties. He has now completed his 90-day follow-up successfully and is still employed and thriving in his role. His employer is happy with his performance and how far Brendon has come.